I have worn this wonderful bra as my everyday bra for many years. The wide band supports most of the weight of my "girls",so the shoulder straps put very little pressure on my shoulders, even after a full days wear. In fact the fit is so good that I rarely have to fiddle with the straps or tug at the band. For those of us with "more up top" the support and cup coverage make this a great bra to wear while working out. Now for the downsides; the firm support and construction give a look that is too "pointy" for some wearers, the cups are seamed and will show though some tops, it's an underwire bra so get used to the idea of hand washing, finally the color selection is pretty limited (your choices are white, beige, and just recently midnight). After searching the internet for sellers but I finally found the midnight (black) color in my bra size (42DDD) and happily bought four of them. I recommend you stock up on the midnight color since Bali has a history of discontinuing any color in this bra which isn't beige or white.
My favorite bra Ordering more Great fit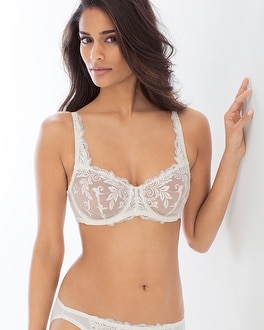 I love the way it fits and looks on me.