Feels very smooth and the fit feels great
it doesn't move, so it's comfortable. I look 10lbs. thinner in this bra. Really slims down the " side pudge" .
Fits well, is comfortable, good coverage. Washes well and comes in several colors.
Would have liked a 28E if it were available for more stability as this bra is stretchy in the band and not fully adjustable in the straps. That said, this bra is all the fun cleavage of a regular push up bra, with none of the weird spillage. Yay!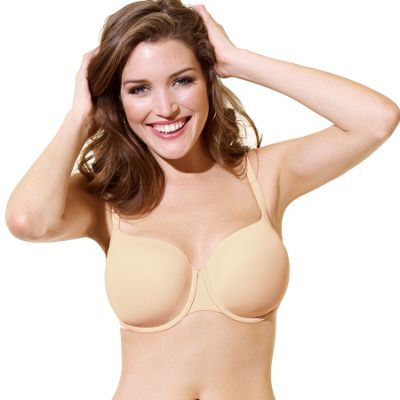 I have this guy in the Lace version. Very comfy cozy, good under high necked t shirts, because I can kiss cleavage goodbye - all the boob is pulled into the cup in this bra, providing a half-spherical shape.
Not wearable under anything. Painful always. Should have sized up in the cup. Ow. Only benefit is it looks kind of flirty and cool without anything else on. But do not be deceived.
Let's just call this one, "definitive proof I should size up in Cleo bras". Weird profile! Internet shopping failed me here.
My bra is actually called Lovely Dots, with a similar construction to this, however I couldn't find it on the site. Incredibly comfortable and pretty, wearable at night when I have breast pain, around the house, under summer dresses for a sleek figure, and more. Perfect bra.
comfy, pretty fabrics, and allows me a sleek figure under clothes. not a sexy bra, however that is not always needed! feels slightly small, which leads to a little quadboob at the seam connecting the stretch lace to the rest of the bra, however it is nice to have on my smaller days.